Πεθαίνοντας στην Αθήνα (Greek Film 2006) – watch online
Nov. 02, 2006
Greece
103 Min.
Not Rated
Synopsis
Πεθαίνοντας στην Αθήνα (Ελληνική ταινία 2006) 
Ο Ανδρέας, καθηγητής Ιστορίας της Τέχνης στην ΑΣΚΤ, διατηρεί δεσμό όχι μόνο με μια σέξι διανοούμενη ελληνογαλλίδα, αλλά και με μια πιτσιρίκα φοιτήτριά του, παρότι αγαπάει την πανέμορφη γυναίκα του. Όταν μαθαίνει πως πάσχει από λευχαιμία με ελάχιστους μήνες ζωής, αποφασίζει να το κρατήσει κρυφό αλλά να μιλήσει στις γυναίκες του για την απιστία. Γυρισμένο σε σινεμασκόπ.
Pethainontas stin Athina/Dying in Athens (Greek Film 2006)
Andreas, an Art History Professor at the Athens School of Fine Arts, is involved both with a sexy intellectual French-Greek woman and a young student of his despite being in love with his beautiful wife. When he finds out he has leukemia and only a few months to live, he decides to keep it a secret but also to talk to the women in his life about his infidelity.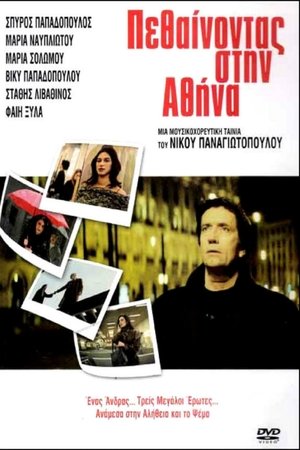 Original title
Πεθαίνοντας στην Αθήνα
IMDb Rating 4.8 171 votes
TMDb Rating 5 2 votes