O filos mou o Lefterakis (1963)
Feb. 25, 1963
Greece
90 Min.
PG
Synopsis
Ο φίλος μου ο Λευτεράκης – full movie online
Ο Θόδωρος, για να μπορεί να καλύπτει στη σύζυγό του τις ερωτοδουλειές του, έχει επινοήσει έναν φανταστικό φίλο απο την Πάτρα, τον Λευτεράκη. Μέχρι που εμφανίζεται μια μέρα στην πόρτα του με σάρκα και οστά! Ο Λευτεράκης γνωρίζει τα πάντα για τον Θόδωρο, ενώ ακόμα και μια οικογενειακή φίλη αναγνωρίζει τον Λευτεράκη και τον χαιρετάει εγκάρδια. Ο Θόδωρος στην αρχή τρελαίνεται, αλλά στο τέλος ανακαλύπτει ότι όλα αυτά αποτελούν μια φάρσα της γυναίκας του, για να τον πληρώσει με το ίδιο νόμισμα!
Η ταινία αποτελεί κινηματογραφική μεταφορά του ομώνυμου θεατρικού έργου του Αλέκου Σακελλάριου, που παρουσίασε το 1955 ο θίασος Ντίνου Ηλιόπουλου-Μίμη Φωτόπουλου.
Πρόκειται για μια από τις λίγες ταινίες της Finos Film που πρωταγωνιστεί η Μάρω Κοντού.
Τραγούδι:
O filos mou o Lefterakis (1963)
Thodoros (Dinos Iliopoulos) is an affluent civil engineer married to Fofo (Maro Kontou). Thodoros has "invented" an out-of-town friend, Lefterakis, who conveniently happens to be in Athens every time Thodoros wants to have a night out with his mistress.
One evening, while in the middle of a card game with his friend Thanassis (Giorgos Konstantinou), he starts explaining his scam to him. However, they are interrupted by the maid, who announces that Lefterakis has just arrived from Patras. Fofo, apparently oblivious to her husband's horror and Thanassis' confusion, invites Lefterakis (Kostas Voutsas) to spend a couple of days at their place.
Over the next couple of days, Thodoros is becoming more and more paranoid, as he first suspects that someone is playing a prank on him, then that he's being blackmailed, and, as the fake Lefterakis seems to know a lot of details about him, that he's indeed losing his mind.
In the end, it is revealed that Fofo has known about Thodoros' infidelities, and the invention of "Lefterakis" for a while. Fofo has planned the whole thing to teach him a lesson, asking a friend to impersonate "Lefterakis". The couple finally decides to put their differences aside when Fofo announces she's pregnant.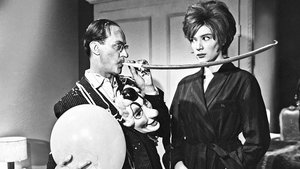 Original title
Ο Φίλος Μου, Ο Λευτεράκης
IMDb Rating 7.1 857 votes
TMDb Rating 7 9 votes